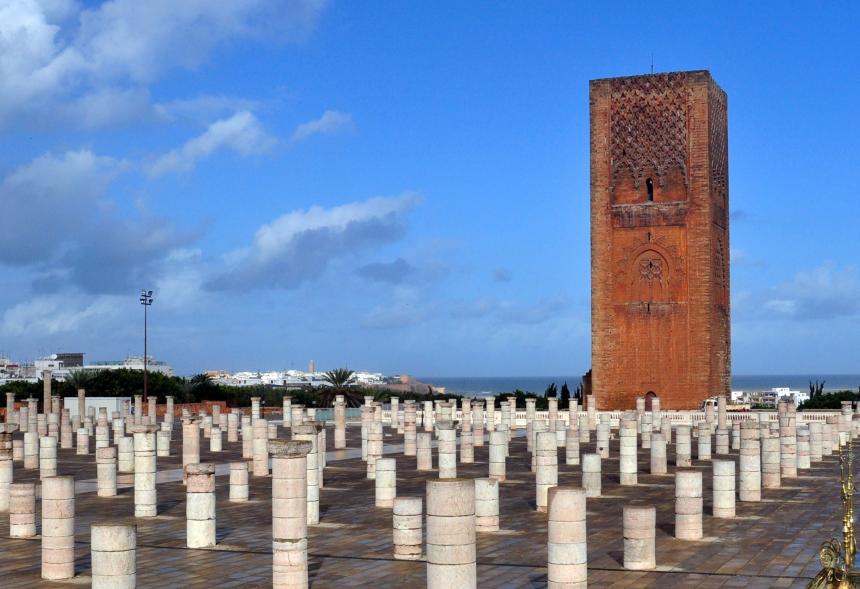 Marrakesh, one of the four Imperial Cities of Morocco (along with Fez, Meknes, and Rabat, whose Hassan Tower is shown here), is the location for this intense, two-week experience.  The most international of Moroccan cities, Marrakesh offers palaces, souks, gardens, a famous Medina, and a multi-cultural, multilingual population distilling centuries of vivid history under the rule of Almoravids, Almohads, Saadian sultans, as well as Great Britain, France, and Spain in the 19th and 20th centuries.  Known as the Red City for the predominant reddish hues of its walls and buildings, Marrakesh promises an unforgettable foray into the rich cultures of the Maghreb.
About the program 
Come to Marrakesh!  UGA en España, in partnership with UGA en France and the Franklin College of Arts and Sciences, is excited to offer an additional option to its summer participants in Spain and France: a 13-day excursion to Morocco at the beginning of July, timed to immediately follow the end of the summer programs in Sevilla and Cádiz.  This cultural mini-program reflects the important role of Morocco and the Maghreb in both Spain and France, evident in the language, history, and culture of both countries.  Our goal is to provide a bridge between the Islamic culture and the countries in which it has had such considerable influence, both historically and today.  Students will receive an additional 3 hours of credit as ROML 4120 (taught in English) and study not only Islamic and Moroccan culture but also receive coursework in beginning Arabic.  Students live in pairs with local families in Marrakesh, meet with Moroccan university students, and after morning classes have afternoon visits to the Medina and souks and winding streets of the thriving red city.  Excursions to the Atlas Mountains and the seaside city of Essaouira are also featured.
Semesters offered
Summer
Excursions
Aside from visits to see the many local sites of Marrakesh, students will visit the Atlas Mountains and the fortified port city of Essaouira.
Housing
Students, in pairs, live in local homes, with meals provided.  Families are screened by our on-the-ground partners and are experienced hosts of foreign students.