Photo: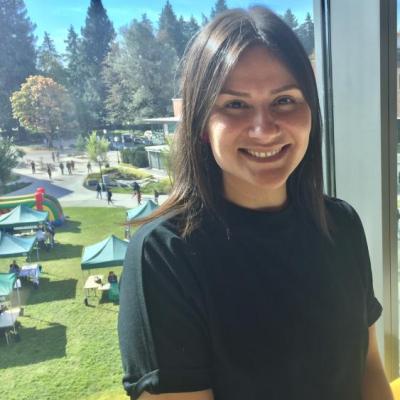 Contact Information
Programs:
Portuguese
Romance Languages
Spanish
I am a PhD candidate in Romance Languages (Linguistics) at UGA. I earned a MA degree in Language Studies from the Universidade Estadual de Londrina, in Brazil, and served as a Fulbright Fellow at the University of Pennsylvania before coming to Athens. My academic interests include language variation and change, computational and corpus linguistics, and finite-state systems as they apply to Romance languages and language learning. 
My dissertation project explores language variation in intensifying constructions in Portuguese, Spanish and related dialects. I rely on computational methods in order to observe and extract meaningful patterns of intensification both from social media and corpora. In this way, I seek to contribute to the understanding of affective language in Portuguese and Spanish. 
In addition, I am interested in the question of subject pronoun variability in these languages, particularly in the constraints that govern such variation. My colleague, Madeline Critchfield, and I will be presenting a paper on this topic in the upcoming 10th International Workshop on Spanish Sociolinguistics, also in April (event canceled due to Covid-19).
In late spring of 2019, I teamed up with Dr. Ana Bento and PhD candidate Lisa Lipani to establish a chapter of R-Ladies in Athens, GA. The main objective of the group is to promote diversity in the R world, a language used for statistical computing, by creating a community in which we share, support and learn. The group welcomes UGA and members of the Athens community. You can become a member and find information on our past events and tutorials here.