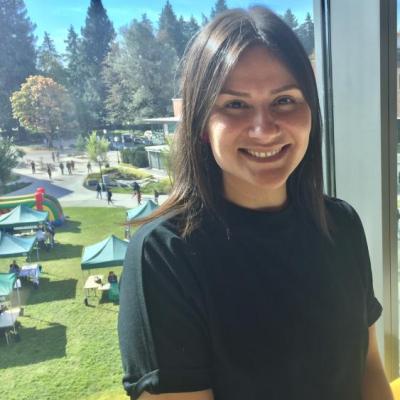 Contact Information
Programs:
Portuguese
Romance Languages
Spanish
I am a fourth-year PhD student in Hispanic Linguistics at UGA. I earned a MA degree in Portuguese and General Linguistics from the Universidade Estadual de Londrina, in Brazil, and served as a Fulbright Fellow at the University of Pennsylvania before coming to Athens. My research interests include language variation and change, research methods, and corpus linguistics as they apply to Romance languages. 
My dissertation project explores language variation in intensifying constructions in Portuguese, Spanish and related dialects. I rely on computational methods in order to observe and extract meaningful patterns of intensification both from social media and corpora. In this way, I seek to contribute to the understanding of affective language in Portuguese and Spanish. My advisor, Dr. Chad Howe, and I will be presenting a poster about intensification in Brazilian Portuguese at NWAV48.
In addition, I am interested in the question of subject pronoun variability in these languages, particularly in the constraints that govern such variation. My colleague, Madeline Critchfield, and I will be presenting a paper on this topic at NWAV48. 
In late spring of 2019, I teamed up with Dr. Ana Bento and PhD candidate Lisa Lipani to establish a chapter of R-Ladies in Athens, GA. The main objective of the group is to promote diversity in the R world, a language used for statistical computing, by creating a community in which we share, support and learn. The group welcomes UGA and members of the Athens community. Our digital platform is under construction, but you can follow us on Twitter for now: @LadiesAthens.