Application for Graduate Study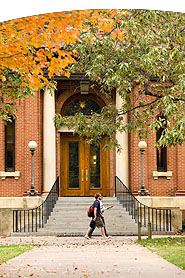 Admission to the Department of Romance Languages is for the Fall semester only (starting in August). The Department and The Graduate School must have all of your application materials by January 1st.
Students must have a B.A. degree in the language of study or equivalent to enter our M.A. programs and a M.A. or equivalent to enter our Ph.D. program.
Since admission is granted by both the Graduate School and the Department of Romance Languages, there are two parts to your application for admission. You must complete both parts by the departmental deadline of January 1st.
Part 1. Application to the Graduate School
First, you must apply to the Graduate School. All information can be found at the Graduate School Admissions web site, where you can apply online. The Graduate School will need a completed application form, payment of an application fee, and official transcripts from any institutions of higher education you have attended. GRE (Graduate Record Examination) scores are no longer required for admission to this program, although they may be required to apply for some Graduate School fellowships. TOEFL (Test of English As a Foreign Language) scores are required for applicants whose primary language is not English, unless you have completed a BA or MA in the United States or another English-speaking nation. On the TOEFL (if required) a combined score of 80 is necessary for admission, and a 26 on the spoken section is necessary to hold a teaching assistantship.
International applicants require some additional information and forms also available at the Graduate School Admissions web site.
Part 2. Application to the Department
You will also need to apply directly to the Department of Romance Languages. The materials below must be sent as hard copies to the following address:
    Graduate Coordinator, Romance Languages
    University of Georgia
    Gilbert Hall
    Athens, GA 30602-1815
    U.S.A.
The forms below work best with Adobe software.
Academic background. Download the Graduate Application Form.
Statement of purpose. Your 1-2 page statement should include a description of any personal, professional, or educational experiences that have prepared you or contributed to your desire to pursue advanced study in Romance Languages, as well as a description of your tentative study interests and your career goals. Send this to us directly
Curriculum vitae. Your CV should include any honors, awards, teaching or research experience.
Three recommendations. You should request 3 letters of recommendation from people who can describe your academic accomplishments and your readiness for graduate study. The letters should be submitted electronically by January 1 through the UGA Graduate School website, or they can be mailed directly by your recommenders to the Department of Romance Languages using the following Recommendation Form. 
A writing sample, such as a research paper, in the language of study (7-10 pages for M.A. applicants, 10-20 pages for Ph.D. applicants).
Application for teaching assistantship.  Download the Graduate Assistantship Application Form.
To confirm that your materials have been received and your application is complete, please contact Ms. Amy Duran.
FOR MORE INFORMATION CONTACT
Dr. Mark Anderson
Graduate Coordinator
romlgradcoord@uga.edu
Amy Duran
Administrative Specialist I
asimonep@uga.edu
Phone 706-542-3591
 
Top of page