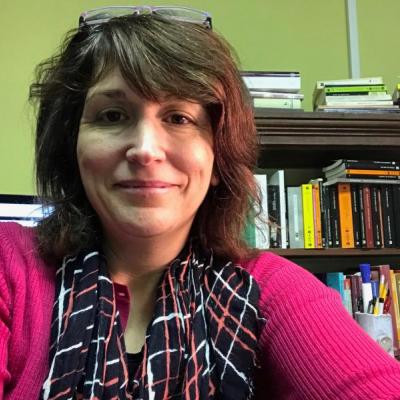 Contact Information
Programs:
Romance Languages
Spanish
I study the literature and culture of Spain pre-1800, with a focus on premodern concepts of human nature and aesthetics, interfaces between theological and literary texts, changing conventions of gender and social class, and relationships between genres of writing. While my research is mainly on early modern cultural history and Spanish Golden Age literature, in courses and work with graduate students these overlap with the study of medieval texts, colonial contexts, women writers, and contemporary cultural and literary theory. I am currently a Book Review Editor for Calíope, and a past President of GEMELA (Grupo de Estudios sobre la Mujer en España y las Américas). Interested graduate students, please read my guidelines for working together.
Research

Research Interests:

Spanish Literature and Culture, Early Modern Period, Gender and Sexuality Studies, Aesthetics and Poetics, Literary Theory
Selected Publications

Selected Publications:

BOOKS

Friar Francisco de Osuna's Norte de los estados in Modernized Spanish: A Practical Guide to Conjugal Life in Sixteenth-Century Europe. (forthcoming with ARC Humanities Press).

Heretical Mixtures: Feminine and Poetic Opposition to Matter-Spirit Dualism in Spain, 1531-1631. Valencia: Albatros-Hispanófila Siglo XXI, 2007. 229 pp.

 

ARTICLES AND BOOK CHAPTERS

"'Your Clogs will be My Stairway to Heaven:' A Wife's Spiritual Goodness in Francisco de Osuna's Reformist Dialogue on Marriage, Norte de los estados." Paradigm Shifts during the Global Middle Ages and Renaissance. Ed. Albrecht Classen. Turnhout, Belgium: Brepols, 2019: (255-78). 

 

"Winds, Heart, and Heat in Premodern Franciscan and Nahua Concepts of 'Soul.'" Colonial Latin American Review. 27.3 (2018): 296-315. https://doi.org/10.1080/10609164.2018.1527525

 

"Social Class." In Using Primary Sources: A Practical Guide for Students. Ed. Jonathan Hogg. Liverpool University Press and University of Liverpool Library in partnership with KISC, 2017. An Open Access e-textbook.

 

"Jealousy in María de Zayas's Intercalated Poetry: Lyric Illness and Narrative Cure." In Golden Age Poetry in Motion. Eds. Jean Andrews and Isabel Torres. Woodbridge, England: Tamesis, 2014: 145-163.

 

"Conceptualización de la naturaleza creativa: Góngora y Luis Martín de la Plaza en Flores de poetas ilustres (1605)." In Los géneros poéticos del Siglo de Oro: Centros y periferias. Eds. Rodrigo Cacho Casal y Anne Holloway. Woodbridge, England: Tamesis, 2013: 295-312.

 

"Humanist and Mystical Understanding in Luis de León's 'Noche serena' and John of the Cross's 'La noche oscura.'" In Approaches to Teaching Teresa of Avila and the Spanish Mystics. Ed. Alison Weber. New York: Modern Language Association, 2009: 232-239.

 

"Fray Luis de León." In Dictionary of Literary Biography Volume 318: Sixteenth-Century Spanish Writers. Ed. Gregory B. Kaplan. Columbia, SC: Bruccoli, Clarke & Layman, Inc., 2006: 138-146.

 

"Sixteenth-Century Spanish Humanism." In Dictionary of Literary Biography Volume 318: Sixteenth-Century Spanish Writers. Ed. Gregory B. Kaplan. Columbia, SC: Bruccoli, Clarke & Layman, Inc., 2006: 296-304.

 

"The Early Modern Sonnet's Lessons of Petrarchism and Militarism." Ed. Edward Friedman. Calíope 11.2 (2005): 33-43.

 

"Góngora's Invocation of Prudente Cónsul: Censorship and Humanist Doubts about his Lyric Language." Hispanófila 142 (2004): 1-19.

 

"Scripted Oralities circa 1607-1617: Language and Intention in Góngora's Las firmezas de Isabela and Lope's Lo fingido verdadero." Bulletin of the Comediantes 55.1 (2003): 47-67.

 

"Shipwreck as Heresy: Placing Góngora's Poetry in the Wake of Renaissance Epic, Fray Luis and the Christian Kabbala." Hispanic Review 70.3 (2002): 413-432.
Education

Education:

PhD Comparative Literature, University of Wisconsin-Madison, 1998

BA Spanish and Comparative Literature, University of Wisconsin-Madison, 1989