Photo: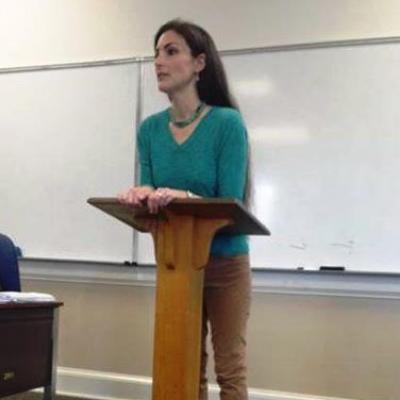 Contact Information
Programs:
French
Italian
Portuguese
Romance Languages
Spanish
Kate advises (60 credit hour +)  French, Romance Language, and some Spanish majors (last name H-Z). She is also the main contact for Italian and Portuguese minor questions.
If you are a major or minor listed above and have a question, please email Kate at rladv@uga.edu.
Research

Research Interests:

Kate Daley-Bailey received her A.B. (2001) and M.A. (2004) degrees in Religion from the University of Georgia. She has taught Religion courses at the collegiate level for the last ten years at Georgia State University, Georgia Perimeter College, and the University of Georgia. As of 2014, she left adjunct teaching and has taken a full-time academic advisor position at the University of Georgia.

Kate is an undergraduate academic advisor for the Romance Languages department. She advises French, Spanish, and the Romance Languages majors and is the contact for Italian and Portuguese minors. She is one of the 25 professional academic advisors hired as part of the Provost's initiative.
Selected Publications

Selected Publications:

Article and Book Reviews

Understanding the Working College Student: New Research and Its Implications for Policy and Practice, edited by Laura W. Perna Teaching Theology and Religion, Issue 15:3, July 2012

 

Mentoring At-Risk Students through the Hidden Curriculum of Higher Education (2013) by Buffy Smith, Reflective Teaching, Online Issue for 05/13/2016

 

Academic Working Lives: Experience, Practice and Change  (2014) by Lynne Gornall, Caryn Cook, Lyn Daunton, Jane Salisbury and Brychan Thomas, eds. Reflective Teaching, Online Issue for 3/26/ 2015

 

The Higher Education Scene in America: Some Observations (2014) by Abraham Gitlow and Howard Gitlow, Reflective Teaching, Online Issue for 10/15/2015

 

Becoming Critical: The Emergence of Social Justice Scholars (2015) by Felecia M. Briscoe and Muhammad A. Khalifa, eds. Reflective Teaching, Online Issue for 08/03/2016

 

Working with Students in Community Colleges: Contemporary Strategies for Bridging Theory, Research, and Practice (2014) by Lisa S. Kelsay and Eboni M. Zamani-Gallaher., eds. Reflective Teaching, Online Issue for 12/01/2016

 

Exploring the Roots of Digital and Media Literacy through Personal Narrative  (2016) edited by Renee Hobbs,  Reflective Teaching, Online Issue

 

Enhancing Student Learning and Development in Cross-Border Higher Education (New Directions for Higher Education, Number 175) (2016), by Dennis C. Roberts; and Susan R. Komive., eds. Reflective Teaching, Online Issue

 

Foundations of Adult and Continuing Education  (2017) by Jovita M. Ross-Gordon, Amy D. Rose, and Carol E. Kasworm, Reflective Teaching, Online Issue

 

Diversity and Inclusion in Higher Education: Emerging Perspectives on Institutional Transformation (2017), edited by Daryl G. Smith, Reflective Teaching, Online Issue (reviewed Jan. 25th, 2018)

 

Digital Storytelling Form and Content (2017), Dunford, Mark; Jenkins, Tricia, eds., Reflective Teaching, Online Issue (reviewed May 17th, 2018)

 

Cultural Awareness and Competency Development in Higher Education (Online Review Copy Only) (2017), by Lynda Leavitt; Sherrie Wisdom; Kelly Leavitt., Reflective Teaching, Online Issue (reviewed Oct. 29th,  2018)

 

Achieving Equity and Equality in Higher Education (2018), edited by Mahsood Shah and Jade McKay., Reflective Teaching, Online Issue (currently under review)
Other Relevant Information