Photo: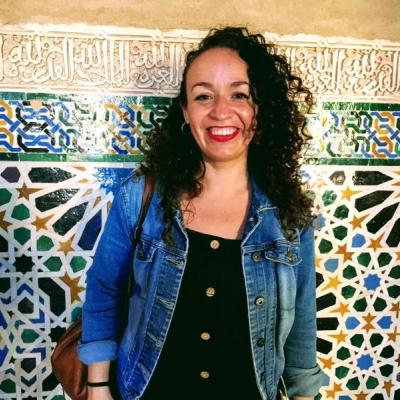 Contact Information
Office Hours:
M & W: 3:30- 4:30PM ; T: 4:45-5:45; or by appointment
Programs:
Romance Languages
Spanish
¡Hola!
Born in Madrid (Spain), I am a second year MA student in the Hispanic Linguistics program. During this semester (Spring 2020), I am teaching one section of Intermediate Spanish (SPAN 2001) and I am working as a TA for the Practicum in Service Learning (SPAN 4090).
My current interests include, but are not limited to, Applied Linguistics, Second Language Acquisition and Sociolinguistics. I am also working on my minor in Cinema. 
Other Relevant Information

Of note:

Besides my studies, I am part of the organizing committee of the Spanish short film festival "España en corto". I also help to organize the Women's Forum series, that champions female voices in academia. 

If you would like to contact me, feel free to send me an email (maria.gonzalez3@uga.edu). Looking forward to hearing from you!
Education

Education:

In 2014, I graduated from Universidad Autónoma de Barcelona (Spain) earning a B.A in Translation & Interpreting of English, Portuguese & Spanish. 

In 2009, I graduated from Universidad Complutense de Madrid (Spain) earning a Licenciatura in Advertising and Public Relations.