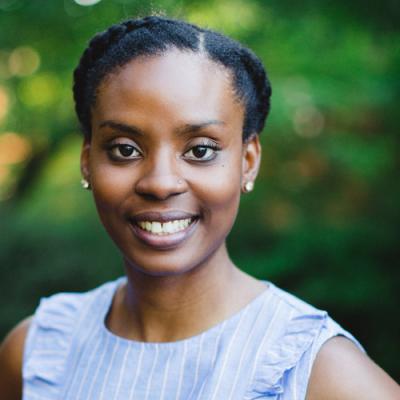 PhD Candidate, French and Francophone Literature
Graduate Teaching Assistant
Contact Information
Office Hours:
Wednesdays, Thursdays and Fridays, 10am-11am
Johanna, a native of France, received her License (B.A.) and Maîtrise (M.A) in American Civilization and with a focus on African-American Studies from Université Jean Monnet in Saint-Etienne. She discovered her fondness for teaching French at Académie Lafayette, a French immersion school.  She then received her M.A. in French at North Carolina State University where she also was awarded the Excellence in Teaching Award by the Graduate Student Association, sponsored by the Graduate School.
One of her primary research interests, which is the focus of her dissertation, is the complexities and ambiguities of identity in French women from the Caribbean or Africa, as evidenced by women authors such as Maryse Condé, Léonora Miano, Marie Ndiaye, among others. More specifically, her interdisciplinary approach combining history, ethnography, sociology, intersectionality between gender and race will allow her to fully examine the visual and literary representions of the bodies of French women of color within a French space. Her dissertation is co-chaired by Dr. Rachel Gabara and Dr. Emily Sahakian. 
Other current research interests include 20th and 21st century women's writings, language and identity, history and memory, writings about afrofeminism and social justice in France, the African diaspora, orality and filiation. Other interests include theater and performance across the centuries, language pedagogy, and the digital humanities.
Johanna is currently serving as the Resident Language Coordinator at Mary Lyndon Hall, an on-campus immersive French program for undergraduate students. She also took part  in the departmental study abroad program UGA en France in Montpellier in 2015 and, in 2016 and 2017, she also served as the Assistant Director for the study abroad program. Johanna was also involved with the Graduate Student Organization for three years where she was the External Outreach Coordinator, a member of the Colloquium Committee and a core-member of Crossroads Graduate Conference organizing committee for February 2017.
Johanna was the recipient of the Graduate School Dean's Award and the Willson Center Graduate Research Award to conduct dissertation research in Montréal, Avignon and Aix-en-Provence in the spring and summer 2017. She was also awarded the People's Choice award for presenting her research during the UGA campus-wide 3 Minute-Thesis competition. 
Courses taught at UGA: FREN 1001, FREN 2001, FREN 2002, FREN 2030, FREN 4150, FREN 4080
Other Courses taught: FREN 1002